Brian paid me a little visit on Monday night in NJ for an early Valentine's celebration.
I had never planned Valentine's before, so it was a fun way to switch things up.
Unfortunately/fortunately, Whitehouse Station does not have a plethora of ways to get into trouble,
so my job was easy…d
elicious food and BYOB.
Post dinner, we retreated to the luxurious le Courtyard de Marriott which I call home each week.
Brian had brought me my Valentine's Day gift from my parents this year – a Kindle cover!
Not quite as stylish as the shoe bag I have been using, but the light is a nice addition.
Brian showered me with chocolate, fun surprises, and one of the sweetest cards he has given me.
It always amazes me that he can find something kind to write that is different than past cards.
I couldn't have asked for a better day before Valentine's Day.
I guess I love any occasion when I don't have to buy myself chocolate.
Thankfully, Mary usually has a chocolate surprise for me whenever I go to NC
J
I got to thinking about past Valentine's Days and here are some of my favorites & the ones I've spent with Bri:
1995 – I had gotten a calligraphy pen at the bookfair and decided it would be fun to write a lengthy message to all of my classmates on my snazzy animal Valentines.
1996 – My parents gave me a pet hedgehog! His name was Sonic and he was adorable.

I wanted a guinea pig desperately and they said no.

So, Mom found me a picture of a hedgehog and I was hooked.

I carried the picture around for months and came home on February 14th, to find a spiky little new friend waiting for me.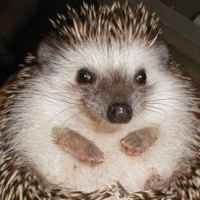 2000 – My school started a semi-like-pyramid scheme selling flowers.

For a bargain of $2 a pop, they would deliver either a white, pink, or red carnation to whomever you had deemed worthy.

Talk about really rubbing it in.

I need to ask my cousins if they still do this.
2005 – Brian told me that he was madly in love with me and couldn't live without me.

Ok, maybe he just told me that he liked me…but I know what he really meant.
2006 – Brian gave me crabs.

Hermit crabs that is.

One was named Speedy and he moved back into the sorority house with me.

He loved his Aunt Lee Jones
J
2008 – Brian took me skiing
2009 – Brian took me to Paris!
2010 – Jackie & Michael's Engagement Party and a snowy weekend at Ballantyne Resort
2011 – Night out in NYC
2012 – Whitehouse Station, NJ! Holla!
It doesn't really matter where you are or what you do.
Valentine's Day at the Eiffel Tower really wasn't any more special than the one where B gave me crabs.
It's just nice to celebrate the love in/of your life <3